Free Case Review
Please complete the form below for review. An attorney will be in contact with you shortly.


Contact us today. You may be entitled to $1000.00 in statutory damages or more for actual damages!
"What are people saying about us?" [Testimonials]
Laws to protect the consumer
If you've been bombarded by debt collectors, they may be contacting you because you've fallen behind on payments, they may be calling for older debts from years past or calling on behalf of someone else's debt. In either situation, consumers should know that THEY HAVE A RIGHT TO BE TREATED FAIRLY AND WITH RESPECT and there are laws to protect you, the consumer from debt collection abuse and harassment. We can stop these collection calls for you.

One of the several credit laws to protect the consumer is the Fair Debt Collection Practices Act (FDCPA), a federal law that protects consumers from abusive and unfair debt collection practices. There are far too may debt collectors who have taken their abusive and harassing tactics too far and that is illegal!
What are you entitled to?
You are entitled to verification of the debt by the debt collector. If a debt collector fails to verify the debt but continues to go after you for payment, you can sue that debt collector in federal or state court. You may have a right of up to a $1,000 award per violation, the fine abusive collectors are subject to for their unlawful conduct. They must also pay court costs, your attorney's fees and any additional monies for any injuries suffered as a result of their misconduct (physical injuries, lost monies or emotional damages). Under some state fair debt collection acts, you can get more than $1,000 in statutory damages. If you feel as if you've been violated, give our firm a call at 855-4-DAVIS-LAW (855-432-8475) for a free no-obligation case review.

Read More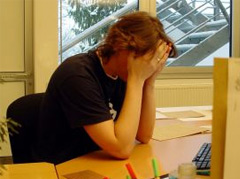 Why Choose Davis Consumer Law Firm
Being a smaller specialty law firm, you will be dealing directly with a Consumer Law attorney, rather than an assistant or paralegal. We don't want you to go through the frustrating experience of making it laborious in getting in touch with a qualified attorney and will keep you updated throughout your case where your attorney will call you directly.
Our principle attorney is Fred Davis (see bio), an appointed certified trial attorney and recently named one of Pennsylvania's 2013 Rising Stars in the U.S. Super Lawyer selection process. He has provided legal representation for thousands of cheated consumers in several states and has helped them get awarded for violations under the credit protection laws, Lemon Law and breach of warranty cases.
Attorneys Fees
Legal representation for credit card and collection agency defense are typically charged on a reasonable flat-fee basis, giving the client a sense of financial security throughout the course of their case knowing that "extra fees" will not be tacked on for extra hours, appearances at hearings or filing fees. Payment plans are available. In some cases where the debt collector fails to prove you owe the debt but still goes after you for payment or is in violation of the FDCPA, they may be responsible for paying your attorney's fees. Contact our firm toll-free for a free, no-obligation case evaluation at 855-4-DAVIS LAW (855-432-8475).
States Served